Sustainability
A global pioneer in the development of new drugs
SK Biopharmaceuticals is fortifying
ESG management

to maximize corporate value.

We have established the ESG/Strategic Committee within the Board of Directors and set a goal of discussing at least 3 ESG-related
agendas for each year to rapidly and actively respond to risks and pursue opportunities associated with ESG.
Also, we have operated the ESG Secretariat, which reports directly to the CEO.
Safety·Health·Environment (SHE) Policy
Recognizing that Safety, Health and Environment are the basic factors for securing competitiveness in differentiated research activities,
we strive to continuously improve Safety, Health and Environment outcomes based on our strong execution power through SUPEX.
Application of Policy
This Policy is applied to all members, subsidiaries, and suppliers involved in SK Biopharmaceutical's corporate activities.
Management Organization of SHE
SK Biopharmaceuticals operates an ESG/Strategic Committee within the board of directors to promote the internalization of SHE management and its implementation throughout the organization.
Under the leadership of CEO and the Chief Technology Officer (CTO), who is appointed as the responsible person for safety and health management, the headquarters establishes and executes safety and health plans.
Furthermore, a dedicated department responsible for SHE management is designated and operated to facilitate the practical implementation of SHE management by SHE professionals.
Safety∙Health∙Environment Management
SHE (Safety, Health, Environment) operates a system, ensuring sound management of drug development
and Safety, Health, Environment.
Waste Management

Establish waste control process
Establishment of Zero Waste to Landfill (ZWTL) Goal
Operate systematically by using RFID tags
Manage warehouse for waste storage

Chemical Management

Establish management for chemical materials and MSDS
Conduct regular training of management process
Build a system for the evaluation of environmental hazards of APIs

Safety Management for All Employees

Conduct Annual Hazard and Operability Study
Quarterly Operation of the Industrial Safety and Health Committee
Monthly Operation of the Cooperative Partner Safety and Health Consultative Body
Conduct Annual Emergency Response Training
2040 NET ZERO SK Biopharmaceuticals recognizes climate change adaptation as an essential element of its management strategy and has declared the goal of achieving net zero greenhouse gas emissions by 2040, aiming to reach a net emissions level of zero by 2040.
This declaration is based on the '2040 Net Zero Roadmap,' which was formulated adopting the RCP-2.6 scenario used in the IPCC Fifth Assessment Report. The Roadmap has been supplemented with socio-economic elements using the SSP1-2.6(Shared Socioeconomic Pathways) scenario, as featured in the IPCC Sixth Assessment Report published in May 2022.
Through this, SK Biopharmaceuticals commits to actively participating in achieving low-emission scenarios, limiting global warming to 1.5 degrees Celsius, and planning and implementing practical mitigation measures.
Achievement Plan for Net Zero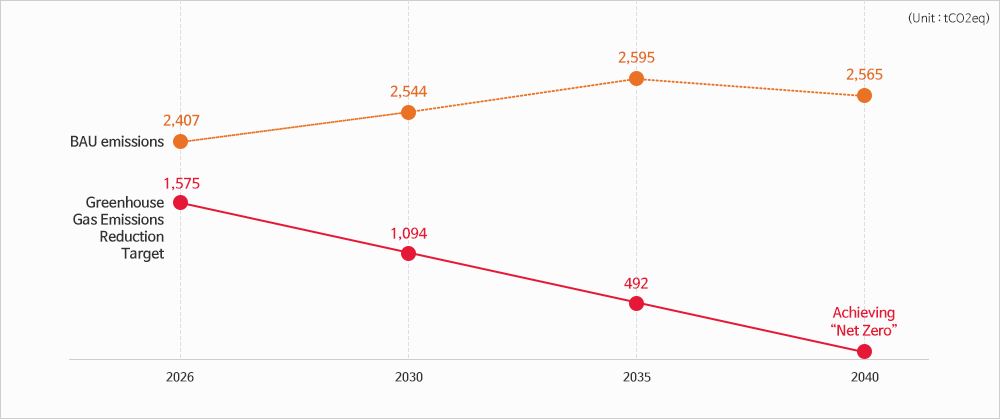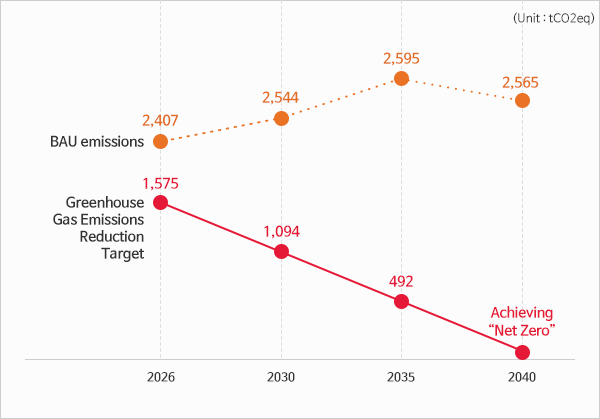 Short-Term and Long-Term Key Initiatives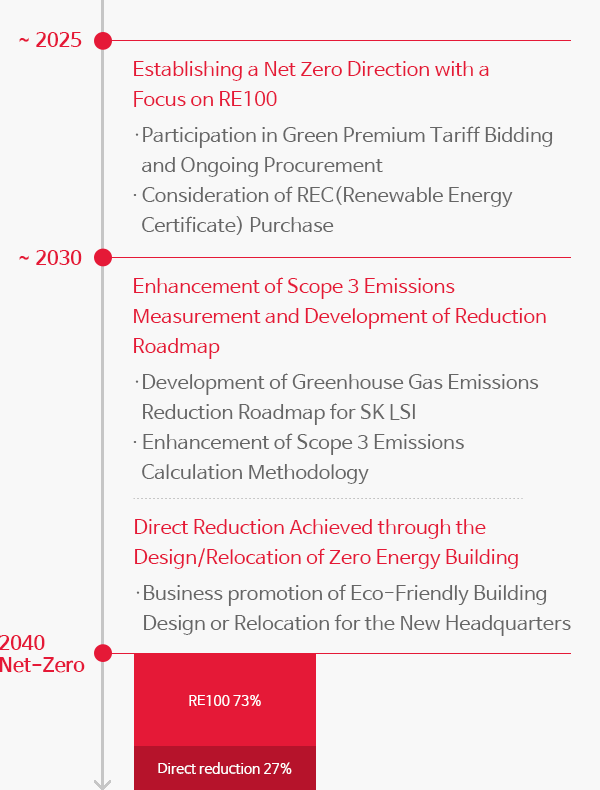 Indirect Greenhouse Gas Reduction Status (Recent 3-year)
SK바이오팜 온실가스 감축 (표)입니다. 구분, 사업 및 프로그램명, 감축량(tCO2eq), 실적 발생시간으로 구성.

| Company Name | Initiative Project Title | Reduction Amount | Performance Period |
| --- | --- | --- | --- |
| SK Biopharmaceuticals | RE100 (Green Premium Tariff) | 447 | 2021.07 ~ 2021.12 |
| SK Biopharmaceuticals | RE100 (Green Premium Tariff) | 436 | 2022.03 ~ 2022.12 |
| SK Biopharmaceuticals | RE100 (Green Premium Tariff) | 575 | 2023.01 ~ 2023.12 |
Environmental Management System SK Biopharmaceuticals is committed to implementing an environmental management strategy with the goal of addressing climate change and minimizing environmental impact.
We strive not only for the well-being of our customers' health but also to contribute to a future society where everyone can live together in good health. We prioritize a sense of purpose that extends beyond the mere legal management of hazardous substances emitted outside our facilities.
We are committed to fulfilling our social role and, in addition to complying with relevant laws, we operate with the aim of minimizing the environmental impact on the local community.
To achieve this, we have established short-term and long-term reduction goals for the proper management of hazardous substances, moving beyond legal compliance to further minimize their impact on the environment in the community.
Short-Term/Long-Term Reduction Goal Roadmap for Environmental Hazardous Substance
1) Short-Term Reduction Goal(~2025)
환경 유해물질 단기 감축목표 (표)입니다. 핵심목표, 2022년 성과, 2023년 계획으로 구성.
Core Objective
Performance in 2022
Plans for 2023
· A 1% annual reduction in hazardous
substance emissions by 2025
· In 2022, the generated waste amount was approximately
41.8 tons, achieving a reduction of around 10% compared
to the target of 46.3 tons
· Setting a target of 41.4 tons for waste
generation in 2023, aiming for a
reduction of approximately 1%
compared to 2022
2) Long-Term Reduction Goal(~2035) : Reduction rate of hazardous substance emissions intensity compared to the previous year
환경 유해물질 중장기 감축목표 (표)입니다. 구분, 단위, 2026 감축목표, 2028 감축목표, 2030 감축목표, 2035 감축목표으로 구성.
Classification
Unit
Reduction Target
(~2026)
Reduction Target
(~2028)
Reduction Target
(~2030)
Reduction Target
(~2035)
Air Pollutants
%
-44
-56
-66
-80
Water Pollutants
%
-44
-53
-62
-74
Waste Disposal Amount
%
-41
-50
-58
-71
※ Intensity (kg/one billion won) =Hazardous substance emissions (kg) / Revenue from products and other sources(one billion won)
Safety·Health Management System SK Biopharmaceuticals recognizes that workplace safety and health issues are critical concerns that can directly result in human harm.
Under the leadership of the Safety and Health team, we hold industry safety and health committee meetings at least once every quarter to actively solicit and manage members' opinions on safety and health matters. Furthermore, we have established an employee and partner company occupational management system to achieve our three-year long-term goals for advancing safety and health management excellence, in alignment with enhancing safety and health management practices.
Roadmap for Advancing Safety and Health Management System
안전·보건 관리체계 선진화 Roadmap (표)입니다. Phase1 (2023), Phase2 (2024), Phase3 (2025)으로 구성.
Classification
Phase1 (2023)
Phase2 (2024)
Phase3 (2025)
Goals for Advancing
Safety Management
System
· Enhancement of Compliance System
for the Act on Punishment of Major
Accidents
· Establishment of a Supplier
Registration Evaluation System
· Enhancing the Participation
Environment for Member Safety and
Health
· Establishment of Supplier Selection and
Evaluation System
· Continual Improvement of
Member-Driven Safety and Health
Management System
· Enhancement of SHE Management
System for Partner Companies
Goals for Advancing
Health Management
System
· Foundation Survey for Health
Management System Implementation
· Confined Space Health Program
Establishment
· Establishment of Health Management
System Implementation Strategies
· Enhancement of Confined Space
Health Program
· Implementation of Health Management
System Policy and Programs
· Evaluation of Confined Space Health
Program
Operation of Safety/Health/Environmental Management System
SK Biopharmaceuticals holds safety and health management systems as well as environmental management systems for its domestic and international facilities, including research facilities at its headquarters in Korea. In accordance with international standards, the company conducts regular safety, health, and environmental compliance audits to assess the adherence to regulatory requirements and compliance. These efforts contribute to the continuous improvement of the SHE (Safety, Health, and Environment) management systems.
Safety, Health, and Environmental Management Certification Status
안전보건/환경 경영인증 현황 (표)입니다. 인증명, 인증범위, 취득일, 심사기관으로 구성.
Classification
Certification Scope
Registration Date
Certification Agency
ISO 45001
(Safety & Health Management System)
Headquarters : Development of
new medicine
(Completed 100% : 1 out of 1 site)
2023.5.11
LRQA
(Lloyd's Register Quality Assurance)
ISO 14001
(Environment Management System)
2022.5.23
KFQ
(Korean Foundation for Quality)
Compliance Audit Status for SHE Management
SHE 경영 Compliance 감사 현황 (표)입니다. 구분, 실시 주기, 주관으로 구성.

| Classification | Audit Cycle | Audit Leading Department |
| --- | --- | --- |
| Initial Stage 1+2 | Initial One-time | External Audit Agency (LRQA, KFQ) |
| Internal Audit | Once a year | SHE Team |
| Surveillance | Once a year | External Audit Agency (LRQA, KFQ) |
| Re-Certification | Once every 3 years | External Audit Agency (LRQA, KFQ) |
Safety&Health and Environmental Management Certification
ISO 45001(Safety & Health Management System)

ISO 14001 (Environment Management System)